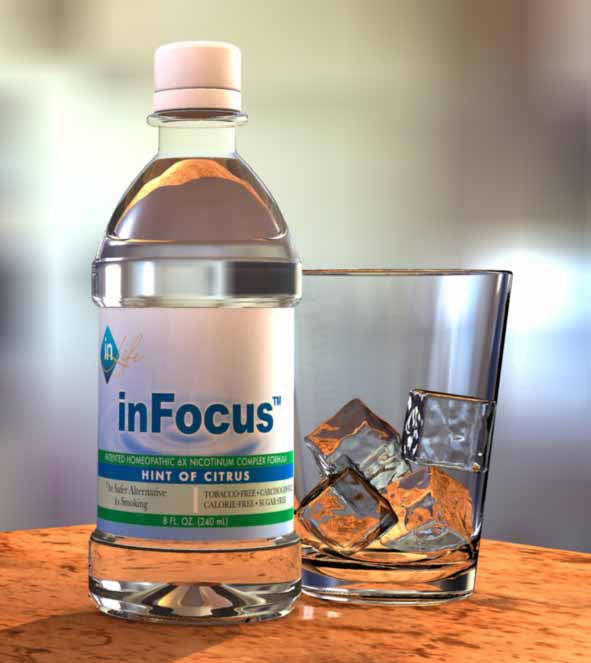 Introducing inFocus - A New Smoke Free Alternative That Offers
Nicotine Satisfaction. A Refreshing & Safe, Focus Energy Drink

The formula is the result of more than 11 years of extensive research and development and is
a proprietary, patented process, formulated with pharmaceutical grade water and a pure organic
nicotine molecule, as a homeopathic complex formula.

The Market.

InFocus® was developed as a smoking alternative for when people can't smoke,
shouldn't smoke or choose not to smoke and to reduce the craving for tobacco.

With the increasing amount of places and countries that are banning smoking, InFocus® offers
people a real alternative to live life smoke free, and the potential marketplace for the product is huge.

Over 2.5 billion people (close to half the world's population) smoke cigarettes. This includes
an astounding 48.2 million Americans.
Throughout the world, legislation is demanding a ban on smoking. This creates an enormous
demand for smoking alternatives where people can't smoke, shouldn't smoke or choose not to smoke.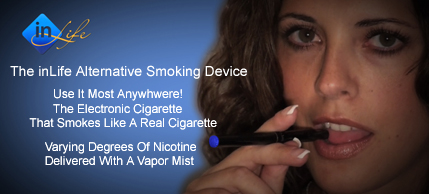 It can be used together with the inLife, Non-Nicotine, Alternative Smoking
E-cig device for those smokers who desire to keep their favorite hand to
mouth regimen.

A Unique Product.

InFocus® is the only adult, homeopathic nicotine beverage offered in the
network marketing world and has no direct competitors in that market
InFocus® is not a tobacco product as stated in 2005 by the Tobacco Tax Bureau (TTB) a division of the Department of Treasury of the United States of America.

The Internal Revenue Code of 1986 (IRC) at 26 U.S.C. 5702(c) defines "tobacco products" to mean cigars, cigarettes, smokeless tobacco, pipe tobacco and roll-your-own tobacco. Tests done at the Scientific Services Division (Laboratory) of the Alcohol and Tobacco Tax and Trade Bureau (TTB) in Beltsville, Maryland concluded that InFocus® does not constitute smokeless tobacco or any other tobacco product defined in the IRC and the regulations administered by TTB. Accordingly InFocus® falls outside the statutory and regulatory regimes administered by TTB and should not be represented as a tobacco product in its marketing or labeling.

Statement from our Medical Director.

InFocus® is a liquid based delivery system of a proprietary processed nicotine molecule, which is tasteless, odorless and colorless.

For commercial use, InFocus® is bottled in an 8 oz. bottle of purified water with Nicotinum 6X Homeopathic Formula, fruit blend flavoring.

Nicotine has a half-life of 60 minutes, with 50% of the nicotine processed through the liver into continine; the balance remains as nicotine and passes into the blood stream. Blood plasma levels between 2 and 7.5 nanograms per milliliter are typical for one dose of (about 4mg) nicotine per day. For people with an average metabolic capacity for nicotine...one mg of nicotine will be dissipated to 0.031 mg within six hours.

The recommended usage of InFocus® is not to exceed four bottles a day.

Added benefits of InFocus® as a smoking alternative is hydrating the user.

InFocus® is to be used when you can't smoke, shouldn't smoke or when you choose not to smoke.

Randall Maxey MD PHD
Suggested Use
1 bottle can last up to three hours or more, not to exceed 4 bottles per day.
You must be 18 years old or older to purchase.
This product is tamper resistant. Do not use if the cap seal is broken or missing.
If you have high blood pressure, a heart condition, are pregnant, lactating or may become pregnant consult you healthcare practitioner before using this product.
Do not use while taking nicotine replacement or smoking cessation products.
Keep this product out of the reach of children at all times.
If you are taking prescription medications contact your physician and let him/her know you are taking this product and any other dietary supplements.

InFocus® - The #1 Choice, when you can't smoke, shouldn't smoke or choose not to smoke.